A Tale of Love and Texas BBQ: When Harry Met Tammy
How Harris County Smokehouse Owners Found Success in Marriage and the Restaurant Business
HOUSTON – January 19, 2015 – Harry Chambers, Jr. and his wife Tammy have been in the restaurant business together for more than 25 years. In fact, their romance began when Harry's family, the founders and then owners of the Kettle restaurant chain, hired Tammy as their Director of Purchasing. "She was my boss," Harry joked as the couple recollected how their relationship started. In their 27 years of marriage, Harry and Tammy have opened and closed their very own Kettle restaurant, beat all odds by rebranding and reopening as a BBQ and breakfast joint they dubbed Harris County Smokehouse (HCS), and raised three boys amidst it all. As they prepare to open the doors at a new HCS Cy-Fair location they've built from the ground up, it's clear this couple has found the secret to success in love, life and BBQ.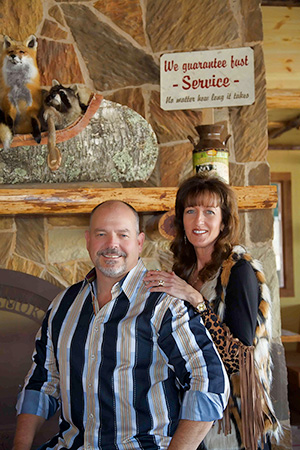 While the couple initially met in college when they were introduced by his sister, it wasn't until years later that their relationship took flight. "I wasn't really Harry's boss," Tammy told us, "I just worked under the vice president, so that's probably why Harry is remembering it that way." Tammy balanced her time between working in the corporate office and traveling around the country with Harry, opening new Kettle restaurants. His mother, however, was often in the office with Tammy. In the lunch room one day, another Kettle employee hinted that he was thinking about asking Tammy on a date, to which Harry's mother quipped, "Oh no, I'm saving her for my Harry."
Well, it seems like in this case at least, mother truly did know best. After going on a few dates ("She asked me out first," Harry bragged), Tammy joined Harry in the field for the opening of a new concept store. "I thought she was a real nice girl, prettiest thing I'd ever seen, but, when I got to thinking about it, I needed somebody that'd work. After about a week out there, I told her I needed her to wash the pots and pans. I didn't really need her to, but I wanted to see. She got back there [in the kitchen] and washed for two hours. I already knew I liked her, but then I knew she could work, too."
In 1987, Harry and Tammy wed at Memorial Drive Methodist Church in Houston. The next year, they bought the Cy-Fair Kettle location together. After 10 years running the Kettle restaurant out of the same building, the state expanded the highway, overtaking much of the restaurant's available parking in the process. HCS was left with a mere 33 parking spots. Despite being told by their lawyer that they would "never make another penny" in that building, Harry and Tammy regrouped and reopened in the same spot as Harris County Smokehouse.
Originally, HCS was strictly a BBQ restaurant. However, when sales weren't hitting the mark, Harry and Tammy took it back to their Kettle roots and started serving breakfast. The restaurant took off, and in 2003 the couple opened their second location in Tomball.
When asked how working together, in what were often stressful circumstances, changed their relationship, Tammy smiled and replied, "It's always been great. We have an incredible working relationship. You know, Harry and I, we just have so much fun together." They learned early on that Harry was the one to manage the restaurant operations and staff while Tammy handled the books. They also make sure to leave work at the restaurant to enjoy quality time as a family.
All in all, it seems Harry and Tammy have not only figured out the challenges of working together, they truly enjoy it. Even when the state once again came in and reallocated the property on which HCS resides, Harry and Tammy worked towards a solution together. The new Cy-Fair restaurant, located just across the highway, is set to open in the first few months of 2015.
"The best part is," Harry said, "I get to work with the love of my life. When I put her back there doing those dishes, it was because I wasn't looking for someone who was pretty or someone I could live with, I was looking for the one I couldn't live without."
ABOUT HARRIS COUNTY SMOKEHOUSE
Harris County Smokehouse (HCS) was established in 1998 as a branch-off from the original Kettle restaurant chain. Owned by Harry Chambers, Jr. and his wife Tammy, the BBQ restaurant serves breakfast, lunch and dinner seven days a week. With a commitment to fresh ingredients, from-scratch recipes and quality portion sizes, HCS also offers to-go orders and catering options from both their Cy-Fair and Tomball locations. For more information, please visit harriscountysmokehouse.com.