Wooden Nickel. Golden Rewards.
The Scoop on Smokehouse Tokens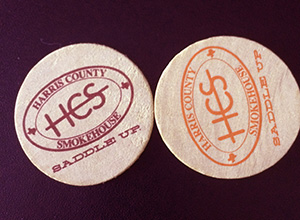 Y'all might have heard some chatterin' about our latest promotion we're calling Smokehouse Tokens. Remembering the wooden nickels that businesses handed out to customers in the good old days, Harry came up with the idea when he and Tammy were looking for a fun way to reward the restaurant's loyal customers.
When you dine at either location on Saturdays and Sundays, we'll give you a Smokehouse Token. Keep it in your back pocket until your next weekday visit when you can redeem it for a free treat, like freshly brewed coffee or our homemade banana puddin'. A wooden nickel that gets you free grub? Well that's good as gold.
Privacy Policy
Collection and Use of Personally Identifiable Information
We only collect information that you voluntarily submit, such as your name and email address. This information is for internal-use only. We will never share or sell your personal information to any third party vendor. We follow generally accepted standards to protect the personal information submitted to us. Please note: no method of transmission over the internet is 100% secure. Therefore, while we try to use generally acceptable means of protecting your personal information, we cannot guarantee absolute security at all times.
You have the option to opt-out of communication from Harris County Smokehouse. If you no longer wish to receive eNewsletters, you have the option to remove your email address from the mailing list.
Disclosure of Information
We hold the right to disclose any personal information as required by law when we believe disclosure is necessary to protect our rights and/or comply with a judicial proceeding, court order or legal process.
Policy Changes
Harris County Smokehouse may, at any time, change the provisions in this Privacy Policy. Any changes made to the policy will be reflected on our website. Please review frequently.
How to Contact Us
If you have questions concerning the Privacy Policy or the use of your personal information, please contact:
Cy-Fair | 281.890.5735
Tomball | 281.351.4060
info@harriscountysmokehouse.com
×
Howdy Do!
Sign up to get the latest hub-bub from Harris County Smokehouse.
*indicates required field
×
Join Our Team.
Harris County Smokehouse is always looking for talented restaurant employees. Fill out the form below to apply.
×