Our family has been in the restaurant business for more than 40 years. Back in 1968, Paw-Paw started a chain of more than 200 breakfast restaurants around the country. But Paw-Paw was a Texan, so he also had a hand in BBQ restaurants and catering for many years.
Dad, or you might know him as Harry, helped Paw-Paw with his restaurants his whole life until he started Harris County Smokehouse in 1998. He still uses some of Paw-Paw's old recipes, and we make almost everything from scratch with no artificial ingredients, so you can be sure your BBQ tastes like good ol' home cooking.
Since our family got started in the breakfast business, we still believe it's the best meal of the day. That's why we started serving BBQ bright and early at 7 a.m. We think you should be able to get fine Texas cookin' any time of day, so stop by for breakfast, lunch or dinner any day of the week.
From our family to yours,
The Chambers Family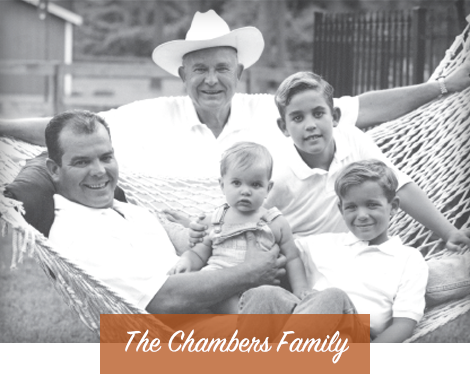 Privacy Policy
Collection and Use of Personally Identifiable Information
We only collect information that you voluntarily submit, such as your name and email address. This information is for internal-use only. We will never share or sell your personal information to any third party vendor. We follow generally accepted standards to protect the personal information submitted to us. Please note: no method of transmission over the internet is 100% secure. Therefore, while we try to use generally acceptable means of protecting your personal information, we cannot guarantee absolute security at all times.
You have the option to opt-out of communication from Harris County Smokehouse. If you no longer wish to receive eNewsletters, you have the option to remove your email address from the mailing list.
Disclosure of Information
We hold the right to disclose any personal information as required by law when we believe disclosure is necessary to protect our rights and/or comply with a judicial proceeding, court order or legal process.
Policy Changes
Harris County Smokehouse may, at any time, change the provisions in this Privacy Policy. Any changes made to the policy will be reflected on our website. Please review frequently.
How to Contact Us
If you have questions concerning the Privacy Policy or the use of your personal information, please contact:
Cy-Fair | 281.890.5735
Tomball | 281.351.4060
info@harriscountysmokehouse.com
×
Howdy Do!
Sign up to get the latest hub-bub from Harris County Smokehouse.
*indicates required field
×
Join Our Team.
Harris County Smokehouse is always looking for talented restaurant employees. Fill out the form below to apply.
×