Why Y'all Will Get Lost in Our Sauce
Imagine a plate in front of you with Texas-sized, slow-smoked slices of moist brisket on it. It's moist and flavorful, but it still needs that perfect barbecue sauce to polish off its perfection before you eat it.
At Harris County Smokehouse, we have an amazing blend of 11 herbs and spices that create the barbecue sauce that Texans have known and loved since 1998. We even sacrifice an entire brisket and put it into our barbecue sauce to give it that perfect subtle smoky taste that brings the whole dish together.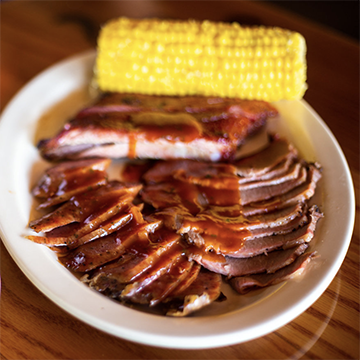 So what's the story behind the sauce?
Barbecue sauce was originally used to keep the meat and food warm on trail rides back in the day. People would smoke their meat and then heat up their sauce to pour over it and keep it warm. These days, Harris County Smokehouse is cookin' it up fresh everyday for y'all.
Our barbecue is made from scratch with no artificial preservatives. From the salt and pepper to the vinegar, tomato paste, and dried mustard, our recipe will have you lost in the sauce.
We go through 15-20 gallons of our sauce per store every day, so whether you just want to drizzle it over some ribs or drown your brisket in it, you can rest assured that Harris County Smokehouse will always be serving up the best barbecue sauce around.